It's pretty wild all of them just ended up on my doorstep the past week… Did you guys just… Find my blog and were like, "heck, Cement seems like a wacky character, let's tag 'em"…? 😂
Regardless, thanks so much for nominating me you all, even if it was possibly on a whim LOL. I didn't really plan on writing this out but seeing how they all just appeared… It's a sign, isn't it? I shouldn't talk about signs again oh God I also really wanted to answer some of these questions since they seemed pretty rad, so here's my blog post encompassing them all. 😎
Also… Er, long post and bad sarcasm/jokes warning. Warning? Should you guys be warned of my bad humor and snarky, immature answers…?
…Probably, right? Lots of images ahead!
Thank you to Makplays for nominating me for the Liebster Award. I'm very happy for the recognition 🙂
Rules for Acceptance:
Say thank you to the person who nominated you for the award
Answer the 11 questions the person has asked you
Nominate and let people know
Ask 11 questions to those you nominated
Questions and Answers 🙂
1. Why did you decide to start writing SimLit?
I've always written things since I was a kid, and I loved storytelling. I didn't know SimLit was a thing for a while–I wrote out a few chapters of White Lies and Half Truths but I never publicized it. On the sims forum, I mostly hang out in the GD, or I would occasionally skim through the activity feed when things are slow. My favorite thread is the Favorite Screenshot thread, where I used to be super active and post long screenshots of my gameplay. (I found myself wanting to reference a few of these things in different posts, so I ended up migrating a majority of my posts to this blog.)
One of the active simmers on that thread started up a story in the Stories and Legacies forum. Hers was the only one I really read until I found someone who posted a gigantic list of their recommended SimLit to read on someone's wall on the activity feed. After that I was like, "Oh so it is a thing. Maybe I should do mine."
2. What's the funniest mishap or blooper moment that's happened in your game?
Many! That's why I have this blog to keep all my pictures contained. 🙂 This (series) is one of my all time favorites: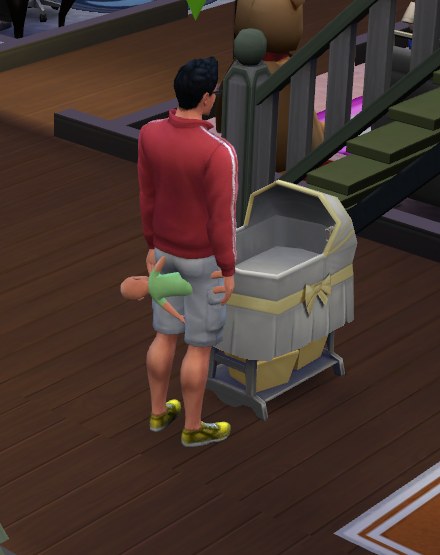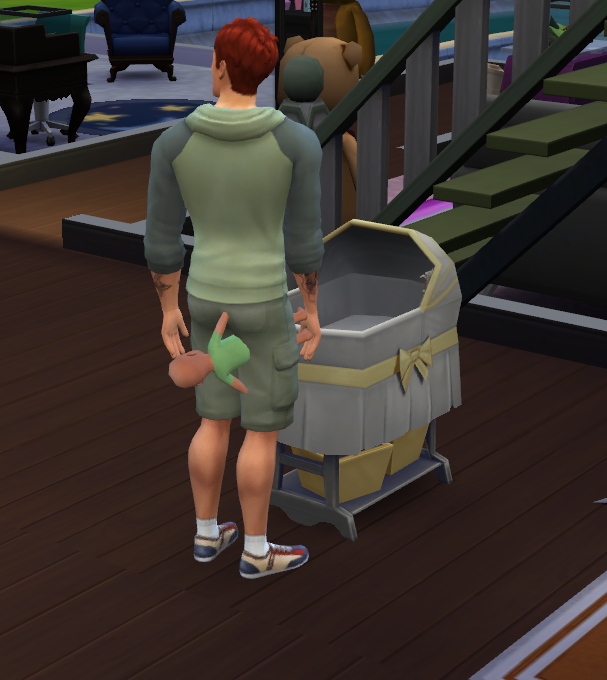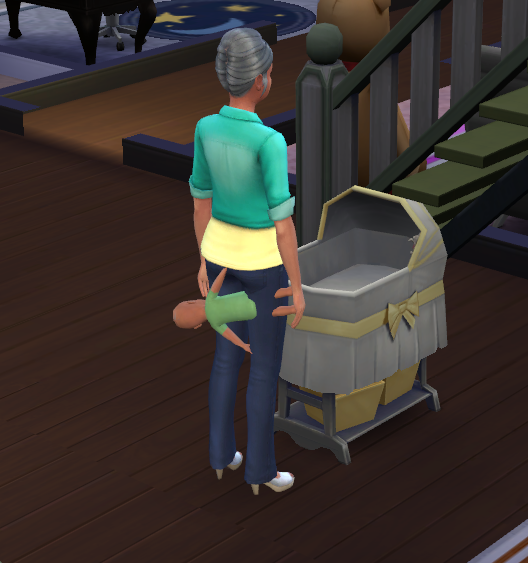 Are these spoilers for my story
He always just clipped into people as he was growing up too. Callen was a great dude while he lived. His clone son did the same thing as well, but that's another story. These were way back in like, 2014 to almost 2015 I think. I don't know how that happened, but it was great. 😂
3. What's one fun fact about yourself?
I used to own 14 rex rabbits. Used to, because they were all given away when things got a bit rough in my family and we couldn't maintain keeping them. 😦 Originally we had two, but they got it on. …Twice, before we did anything. I'd list their names but their names are kinda weird and um… Sort of embarrassingly bad…
…
From oldest to youngest, Fiona Maria (♀), Kuromi, The Midnight Stallion (♂), Whiskey (♂), Caucasian (♂), Demi Lovato (♂), Rambo (♀), Sirpa (♂), Adventure Quest "AQ" (♂), Mao Zedong (♂), Stallion (♀), Yuuto (♂), Minsoo (♂), Mohawk (♂), and Perry the Platypus (♂).
Those names got increasingly worse to read didn't they
…Some of them were named before we knew their gender, but some of them were named because of things they liked (Rambo would always get so excited to cuddle with my brother, and they bonded over watching a Rambo marathon), things that were bad jokes that regarded them (Caucasian was named that 'cause he was the only white one that survived in his litter. … Haha…), or my friends came over and were like "hey is this one named because I wanna name this one Demi Lovato" and I just rolled with it. They were all my sweet babies who loved giving cuddles to everyone (except for er, Fiona and Caucasian, they hated new people and were biters, lmao.)
I wish I had the pictures of them actually outside and not by their creepy looking hutch, but I lost the SD card with their cute Christmas photos and outdoor photoshoots. Ughhh 😭
4. Does anyone you know offline know that you play the sims?
A lot of my friends do. I mean, it's no secret–My Twitter account is literally The Sims 99% of the time. But that would probably change if I ever got another pet rabbit. Then my Twitter would turn into a bunny adoration Twitter, where I only post pictures of my rabbit doing cute rabbit things like binkies and eating.
5. What's your favorite part of the simming community?
Looking at the reactions simmers have to the most mundane things added into the game. Out of context, people raving about light switches or a functioning radiator is hilarious. Don't get me wrong; I'm not teasing. It brightens my day seeing other people engrossed and so passionate in the Sims as me!
It's always hard to find others who are into the Sims on that scale, and I'm very happy to be part of that community.
6. What's one thing that makes you smile?
dank memes hehexd
Bunnies are my go-to thing to look at when I feel down. I'm sort of a bunny maniac, but they aren't my #1 favorite animal even though I obsess over them a lot, and I'm easily conned into getting things with "bunny" or "rabbit" in the title, or have them anywhere.
7. Favorite expansion/game/stuff pack (this can be from any sims game you've played)?
Into the Future, because you can make Plumbots. I'm all for the robot uprising, so my love for them is my way of schmoozing up to our future automaton overlords. Also, plumbots don't hurt your simself's feelings, unlike your simself's husband who can't keep it in his pants when he's at "work"
8. What's your favorite dessert?
I read this as desert at first. I would say Sahara, but I didn't watch the whole movie. …I'm sorry, I'm referencing three things at once. The joke is too confusing to take in. 😦
I don't have an actual favorite. I like a lot of desserts… Except for pies and er, cheesecake. My uncle worked at a cheesecake factory before, and it was awesome at first. …Now I cringe whenever I see cheesecake. Three years of free cheesecakes really takes a toll on you. I'm not fond of pies since I don't know–I kinda get stupid whenever I eat them and I always end up choking on some random piece of the crust
Every time I've eaten pie I've choked. So embarrassing… 😟
9. Favorite Color?
Orange–Because it's a color and a fruit. I think I wrote that in as one of the lines a character of mine in my story said too… Haha, look at me reflecting myself in my characters.
10. Favorite Memory?
The one in Cats.
On a serious note, I have a lot of memories I like. One of them is the time when I had Zac Efron's part in a middle school production of High School Musical. It was weird. I really had to force myself to get my head in the game. There was a lack of voices so it wasn't that outstanding, but I always think of that time as a great shock to a lot of my classmates who didn't expect me to know how to sing.
11. What's something about yourself that you're proud of?
Everything. Like damn, have you seen me? I'd do me
I can cook minute rice in 58 seconds

I-I don't know. I like a lot of things about myself, and only dislike a few. I think my attraction to learning and expanding my knowledge is a proud attribute I carry.
I was also nominated for the One Lovely Blog award by Sarahkay. Thank you so much!
Here are the rules for this award.
Thank the person who nominated you and provide a link.

Post about the award

7 facts about yourself

Nominate bloggers and notify them
Give your readers good news
Seven facts about myself? I guess this is my chance to say some of those fun facts from earlier.
1. One of my top fears includes jarred doors. The mystery of what's behind them, the idea of something being there in the first place… It could be anything. I can't leave jarred doors alone. They make me very apprehensive, I guess. …Why am I starting this off with fears…?
2. I love horror and mystery, but I'm a complete scaredy cat. Whenever I watch horror movies, I "pre-scream" before scenes I expect something bad to happen. My Steam library is full of horror games I half played (like Outlast) because I didn't have the heart to complete them. I always tend to buy new horror games to collect "play." I'm going to get back to them someday. …Someday. 😟
3. I give names to everything. People names, I mean. I used to take care of some daisies I named "George" (RIP George, a stray cat peed on him when I transferred him outside), my computer's name is "Andrew," my laundry hamper is shaped like a duck and is named "Garrett." …Why they're all male names for the ones I just listed, I'm not quite sure. I just kinda look at things and call them whatever name that comes to mind and it sticks.
4. I have a habit of breaking into song whenever one line of a song I know is mentioned, and will stop mid-sentence to sing that part of the song. It's a little hard to explain, but if you ever talk to me in person or by call, get ready to hear some show tunes. 😂 Some of my friends sing along with me, as well as a couple of cousins and my older brother. I will continue the rest of the sentence after… Just think of it as a musical break.
5. Back in High School, I spent my time in AP Art drawing/painting Toilets as my concentration. …Really.
That's just the tip of the iceberg of my toilets. …I passed with flying colors, by the way. I guess you can say I was the shi–
6. I used to have a terrible, absolutely embarrassing habit of making dog/cat noises when I was like… I don't know, 12? I would honestly just sit down and bark or meow quietly to myself when it was quiet in the house. Please don't ask how that started. The reasons behind are really dumb… 😂
7. Bad pickup lines are one of my favorite things in the whole world, but they put me in terrible situations. I tend to spit them out whenever I get nervous or feel awkward since those are the optimal times when my brain goes into the gutter …Which makes the situations worse, but… I can't stop 😟
And the good news? Well, I'm halfway done with renovating my chapters for White Lies and Half Truths! I'm also almost done writing out my new story from start to finish. In the real life department, no one found out I'm a creepy little kid in my Summer classes yet, so I have a chance at making new friends!
I was also nominated for the Unique Blogger Award. Thank you to cecerose0208 and JordanSimsF (way back when) for the nomination! 🙂
And the rules:
Say thank you to the person who has nominated you for the award.
Answer the questions the person has asked you.
Nominate people.
Ask the people you have nominated questions.
And my answers to questions.
1. What made you start writing Simlit in general and your story in particular?
I've mentioned what started me in the Liebster Award part of this post, so I'll answer the latter part of the question. I started my story "White Lies and Half Truths" because I wanted to share the story I played with during my Sims 4 gameplay. I had thoughts about not going that route since I'm very fond of darker themes and there aren't many that I've read that had them. However, I decided to just do it anyway for the off chance that someone would be curious about where the Sims I post about now come from.
2. Which of your characters is your favorite?
I have three I like especially: Peter/Lyle, Murphy, and Joseph. I find them fun to write and the most I relate with. Well, they are me, so that's kinda redundant, isn't it?
3. If you could take all of your characters and drop them in a completely different genre of story, what would you choose?
Comedy. I always wanted to write White Lies and Half Truths as a comedy.
Either that or um…
…
You know, I just googled a list of genres just now and I noticed "Cookbook" was a genre. …Yeah, a White Lies and Half Truths Cookbook. I can think of a few recipes off the top of my head.
Lyle's Charred Eggs with Charcoal, Murphy's "I'd Pie for You" Shepherd's Pie, and a Peanut Butter and Danna Banana Smoothie… 🤔
I would like to officially change my answer to Cookbook. …But that's kinda funny too, since my cooking is Peter/Lyle-tier. I burn everything.
4. When you're not doing Simlit, what is your favorite thing to do online?
look up dank memes xd
Reading research on weird topics, finding weird images to Photoshop, or skimming Wikihow to giggle at the drawings. Photoshopping bad puns to send to friends on Discord is one of my favorites.
I would also answer this with "gaming/playing MMOs" but my internet is garbage lately so I can't really do those things. Unlike the title of the story I'm working on, I don't wanna lie… 😂
1. What Sims game do you play and what do you like best about it?
I play TS2 and TS4 the most if I think about my track record.
I love TS2 because TS2 was my first exposure to the Sims franchise, so I play it for nostalgia. Now that I can actually read and comprehend things, TS2 is even more fun. LOL. I also recently bought Bustin' Out for the PS2 since the copy we had disappeared. Ahhh nostalgia! I love how goofy the ghosts are and how those weird hobby people just barge into your house LOL.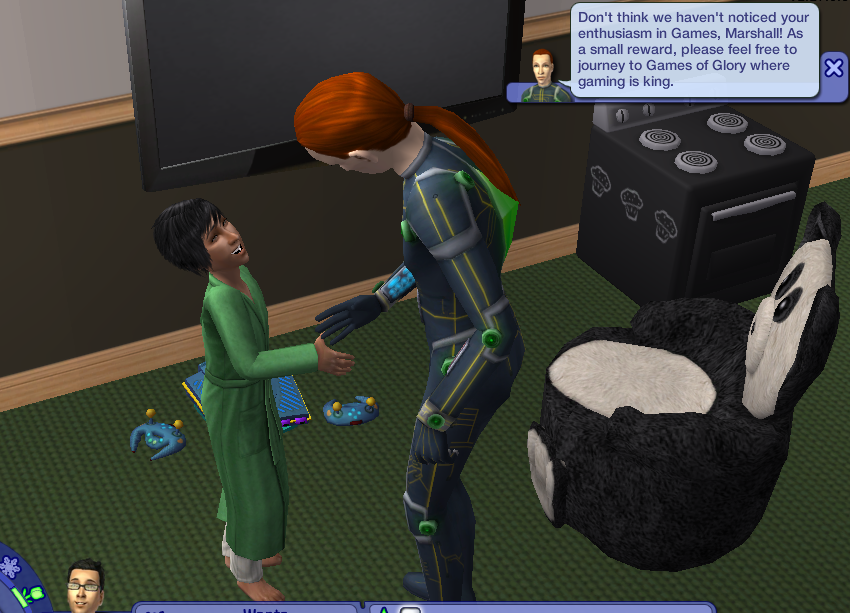 And well, glitches.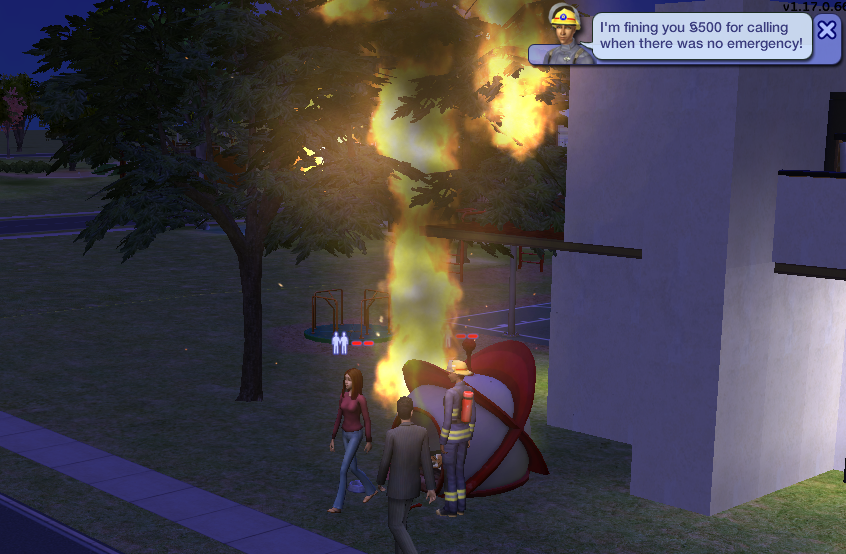 I love TS4 because, well, it's the one that pulled me back into the Sims. I love the silly expressions they make and the push and pull CAS. I always imagine myself squishing their faces when I'm in CAS.
And yeah. Giltches.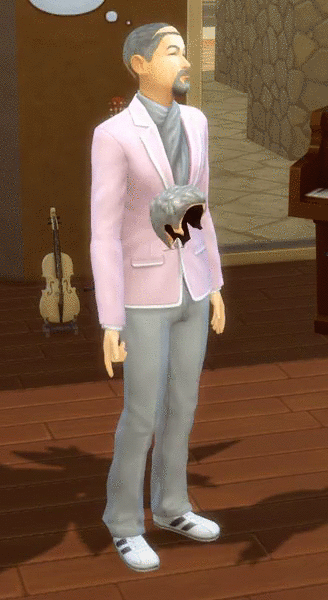 2. If there were two things you could change about the game, what would they be?
I wouldn't change TS2 at all. I always have a blast whenever I play it, and there's always mods for the little things. Maybe compatibility with Windows 10 so it wouldn't crash so much, though
Two things on TS4… The culling cap and family trees. Honestly, the system is bonked. If I wiped out my ghosts, there'd definitely be a chance of incest going on and I can't have that. Also the culling cap is so, so low. I have about 800 something sims last time I checked. I can't just delete them. I love all my ugly little townies and their little townie families 😦 They all look like Murphy, too
3. Where is your favorite place to write? Do you have a desk? Do you sprawl out on the bed? On a blanket on the floor?
I like writing in my living room. I kinda curl up on the couch with my notebook and jot down ideas while listening to the neighborhood kids play outside. Sometimes I'd sit at my honky tonk piano and play a few things when I get stumped to sorta have a break when I feel like writing is too much. My next door neighbors are also pretty loud and they have kids who say and do the darnest things, so sometimes that gets my brain going. I also have my summer house where there's literally nothing to do but write (or clean and do generic outdoorsy things), so it kinda forces me to get the creative juices flowing. Gotta entertain myself somehow, right? 🙂
***
For my nominations, I don't have many to accommodate each award since a lot of the stories I stumble upon aren't on blogs (that I'm aware of), weren't nominated the same time I was, or their stories are discontinued. Time to expand on my reading list, I suppose? 🤔
However, for the Liebster Award, I'd like to nominate the following from my reading circle (that aren't already nominated) that could use more eyes on their neat stuff:
JordanSimsF's The Reed Legacy
Dancer-Freak's The Blakesley Legacy
BellaGorilla's Severed from Sixam
SilentWolf's Heartbeats
EmmaSmith101's Adacot Legacy
And the questions to answer whenever you get around to it:
What influences you the most when you write?
What kind of music are you into?
What is your favorite past time if not playing any iteration of the Sims?
What would be your preferred domesticated animal?
What kind of Simmer are you? (Deviant, Family Player, etc)
Between coffee and tea, which do you prefer?
If you could be anything in our known universe, what would you like to be?
What is your favorite genre in either television or books?
Do you know any other languages aside from English?
What do you do to counter writer's block?
Are you a messy writer, or are you organized?
Thanks for reading! Hopefully none of my answers rubbed anyone the wrong way. 😅